Latest Projects
Paper Cup Forming Machine – JPC-Q7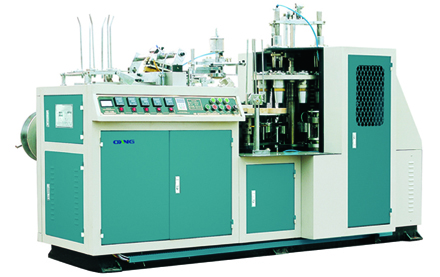 DESCRIPTION :
JPC-Q7 Paper Cup Forming Machine is multi-station automatic machine. It has continuous automatic procedures like feeding, sealing, oil -filling, washing, heating, knurling, curling,unloading, etc. It is ideal equipment for producing paper testing-drinking cups, market cups, advertising cups, etc. It is widely used for hot drink and beverage. If you want to make two-side ( double) PE coated paper cups, we recommend you to use JKPLC or JPC-Q7 ultrasonic paper cup forming machine.
FEATURES :
1) The main-frame of the machine is an incline. And the incline can help the cups easily drop into the plastic holes, the rate of which goes up to 99.99 %.
2) The shape of the head is oblate, which can seal the cups easily. It is much better than that is round.
3) The machine sends the bottom paper up to the cup automatically and adjusts itself because of a spring.
MAIN TECHNICAL PARAMETER :
 Model
 DB-C16
 DB-2C!6
 DB-C18
 DB-2C18
 DB-C22
 DB-2C22
 production capacity
 45-55pcs/min
 40-50pcs/min
 30-40pcs/min
 required paper

 150-250gsm one side PE coated paper

 150-380gsm two side PE coated paper

 150-250gsm one side PE coated paper

 150-250gsm two side PE coated paper

 150-250gsm one side PE coated paper

 150-250gsm two side PE coated paper

 container capacities

 (A)Ф50-90mm;(B)45-115mm;   (C)Ф35-64mm;(D)4.5-10mm

 (A)Ф60-128mm;(B)45-135mm;  (C)Ф50-97mm;(D)4.5-10mm

   (A)Ф60-128mm;(B)45-180mm;(C)Ф50-97mm;(D)4.5-10mm

 Air supply requirement(provided by customer)
  working pressure:0.4-0.6Mpa      gas volume:0.5m3/minute
 total power
  220v  50hz    3.8/8kw  or  380v  50hz    3.8/8kw(variable-frequency control)
 weight
  1300kg
  1550kg
  1600kg
 overall dimensions
 2450×1200×1750mm  
 2450×1200×1750mm
 2700×1300×2000mm