Latest Projects
Non- Woven Box Type Bag Making Machine –JkNWB-1000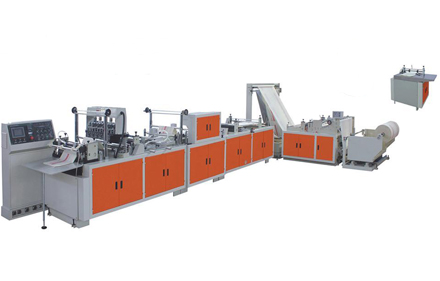 DESCRIPTION :
In then process, the machine takes nonwoven as raw materials. This machinery can produce nonwoven bags of various sizes and shapes, such as nonwoven shopping bags, reticules, flat port bags, clothing bags, shoes bags, and other products packaging bags.
Features:
This machine is electro-mechanical integrative, once-through fully automatic forming, touch screen operation is applied, photo-electric trace, computerized deviation rectifying function, hence accuracy and smooth. Such automatic devices as slotting device, punching device and metering device are equipped. Finished products are produced at fast speed, in high efficiency, and in firm appearance after welding. This machinery is an optical choice for the nonwoven bag making enterprise and businessmen devoted to the production of nonwoven environment-friendly bags.
1, local touch-screen computer configured to operate;
2, arbitrarily set a long-step electric track, a smooth, lost support from the standard parking
3, feed off automatic shutdown, auto-punch;
4, while at the end of the roll-ultrasonic welding, in particular, solid, smooth;
5, automatic temperature and automatically correcting leaks;
6, while cutting edge automatic closure, automatic nesting.
Maintechnical Variables :
| | | | |
| --- | --- | --- | --- |
| Type | ONL-D600 | ONL-D700 | ONL-D800 |
| Production speed | 20-100pcs/min | 20-100pcs/min | 20-100pcs/min |
| Bag width | 100-800mm | 100-800mm | 100-800mm |
| Bag length | 200-480mm | 200-580mm | 200-680mm |
| Nowoven fabric specification(G. S. M) | 30-100g | 30-100g | 30-100g |
| Power supply | 380V/220v | 380V/220v | 380V/220v |
| Total power | 11KW | 13KW | 15KW |
| Overall size | 8500× 1650× 1800mm | 78500× 1650× 1800mm | 8500× 1850× 2000mm |